Avid Composer Nitris DX
Now for rent: Composer Nitris DX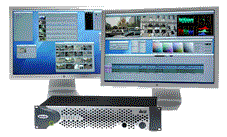 Since 2003, Dutch rentalcompany, Europe Audio/Video Rent rents out complete Avid Media Composers to a large variety of users. For example, the gear is often used by the process of making a videoclip, commercial, movie, corporate video or a sportsgame.
When you edit high-profile films for a living, your editing system becomes an extension of yourself. Media Composer Nitris DX integrates the Media Composer toolset with the new Avid Nitris DX hardware for a remarkably responsive, high performance, multi-codec SD and HD editing solution. The result is the most powerful Media Composer system ever built!
Like the Adrenalines, the new Composer Nitris comes with 19 monitors, local storage, audiomonitoring, mixing console, wacomtablet and lots of cables. Also available are additional recorder/players, networkstorage or whatever else it is you need to finish your SD or HD-video!