Tascam DR-100
Tascam DR-100 - Portable Digital Recorder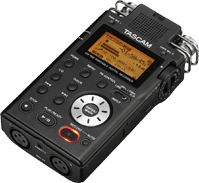 De Tascam DR-100 is de opvolger van de DR-1 en springt duidelijk boven de concurrentie uit. Niet alleen qua prijs maar vooral ook door de vele mogelijkheden die de DR-100 te bieden heeft.
Opnemen kan op WAV of MP3, van 16-bit/44.1 tot 320Kbps en 24-bit. Verder beschikt de DR-100 over prima, ingebouwde cardio en omni microfoons én kun je er zelfs twee externe 48V microfoons op aan sluiten. Files overzetten kan met USB, het opladen van de meegeleverde accu kan met dezelfde USB-aansluiting. Mocht je toch zonder stroom komen te zitten dan kun je er altijd nog een paar penlites in stoppen!
De verkoopprijs van de DR-100 is € 360,- excl. BTW, huren kan al vanaf € 30,- excl. BTW per dag. Voor meer informatie kun je contact met ons opnemen door te bellen naar 030-6775911 of een mailtje te sturen naar planning@eavr.nl.