30 Seconds to Mars
30StM bij Radio 1Live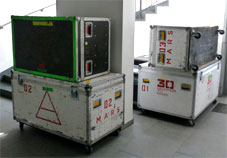 In opdracht van de MGMT Company leverde en installeerde Europe Audio/Video Rent BV een complete Protools HD3 set voor gebruik tijdens de, gedeeltelijk, akoestische tournee van 30 Seconds to Mars.
Op 24 juni speelde 30 Seconds to Mars bij het Duitse radiostation 1Live voor een enthousiast publiek bestaande uit 30 fans die mee hadden gedaan aan een belspelletje. Hier kunt u een deel van dit optreden bekijken.
Eén van de studioruimtes van 1Live werd, op verzoek van de uit Londen afkomstige engineer Neil Comber, door EAVR omgetoverd tot een heuse mixroom met o.a. Protools HD3 v8, Waves Platinum, Soundtoys, SSL Xlogic Channelstrip, Yamaha NS10's en Genelec afluistering.
Op zaterdag 26 juni speelt 30 Seconds to Mars bij TMF in Enschede (NL).