Burriss Royal Bluesman
Burriss Royal Bluesman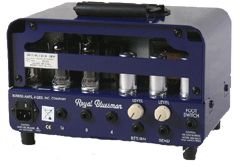 In 2008 begon Europe Audio/Video Rent BV met de import van het Amerikaanse merk Burriss Amplifiers. Dit merk produceert kleine, Class A vintage-looking gitaarversterkers en footswitches voor gebruik op het podium of in de studio.
Na diverse lovende reacties van gitaarwinkels zoals Kees Dee, Feedback, Robberts' Guitars en Standby (nu Dirk Witte) en artikelen in de betere tijdschriften begint de verkoop behoorlijk op gang te komen. Ook hebben wij een cabinet van Nederlandse bodem gevonden dat uitermate geschikt is om te combineren met de Royal Bluesman. Paul Lenders bracht ons in contact met de mannen van Kool & Elfring en de XLs 112 en 212 cabinetten zien er niet alleen blits uit maar klinken ook nog eens te gek!!!
Inmiddels hebben Dennis van Leeuwen (KANE) en Bas (Di-rect) beiden een Royal Bluesman aangeschaft voor gebruik op hun nieuwe album. Als je ook geïnteresseerd bent in de Burriss Royal Bluesman kun je deze natuurlijk een dagje uitproberen. Bevalt ie, dan krijg je bovendien één huurdag korting op de aanschafprijs. Voor meer informatie kun je contact met ons opnemen per mail (planning@eavr.nl of leo@eavr.nl) of bel naar 030-6775911.