Four Days Marches
4-Day Marches Nijmegen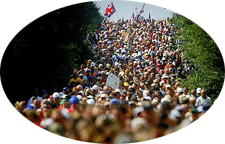 From July 20 till July 23 the 94th edition of the Four Day Marches take place in Nijmegen, the Netherlands.
More than 40.000 competitors from several countries will walk distances from 30 to 50 kilometres per day.
Europe Audio/Video Rent provides Newsbyte with several HDV camcorders, a HDV deck and a Final Cut Pro set to report live from the centre of Nijmegen.
More info can be found on www.4daagse.nl