Shure UA844 system
Shure UA844-SWB system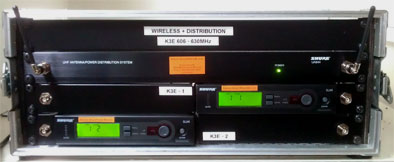 Now available for rent is a Shure UA844-SWB UHF antenna distribution system for our SLX wireless microphones.
The UA844 comes with 2x UA830 active amplifiers, 2x weatherproof UA860 passive omni antenna's and 30m of high grade bnc cables. In total four SLX receivers can be powered and distributed simultaneously with the UA844.
With the UA844 system you can easily extend the range of wireless microphones, in and outdoor!