DPA for Chris Chameleon
DPA 4088 for Chris Chameleon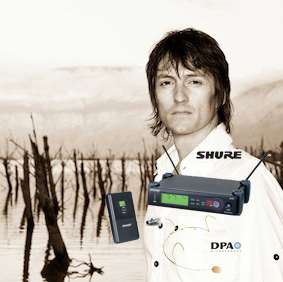 Europe Audio/Video Rent sold a Shure wireless system and a DPA 4088 microphone to South-African musician Chris Chameleon who is currently touring in the Netherlands with a solo-show.
Soundengineer Natasja Giebels hooked us up with Chris and during one of his soundchecks he chose for the Shure SLX with a 4088 headband. This setup can be used for both intimate solo-performances and high-level performances with a band.
Chris Chameleon became known in 1997 as front man of Boo!, an eclectic musical threesome which has since acquired a worldwide cult following. When Boo! quit in 2004 Chris decided to spread his wings by releasing his solo-album 'I Repeat You'. This album was nominated for a 2006 South African Music Award for Best Adult Contemporary Afrikaans Album. The album reached a gold status in South Africa in July 2006 and platinum status in December 2007.
More info on Chris can be found on www.chrischameleon.com